Major Harry R Bolster
---
Major Harry R Bolster was a fighter pilot for the famous American Volunteer Group (AVG), commonly known as The Flying Tigers, in 1942 in China. He was also my first cousin (Rob Robinette's father's oldest sister's son). He has one confirmed air-to-air kill as a Flying Tiger fighter pilot. He received bonus payments from the Chinese government for two destroyed enemy aircraft but one was destroyed on the ground.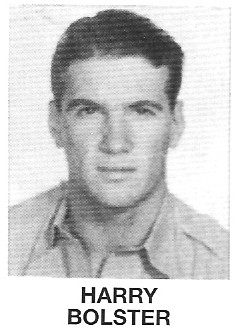 He was a pilot in the US Army when he joined the AVG Flying Tigers to be a flight instructor for Chinese pilots. When the Chinese Air Force Flight School at Yunnan-yi, China was closed in the spring of 1942, Harry and the other remaining instructor pilots joined the AVG combat squadrons as Fighter Pilots. He became a wingman for the 2nd Pursuit Squadron AVG "Panda Bears" and was most likely a 1st Lieutenant and Captain with the AVG. The AVG Flying Tigers disbanded in July 1942 with many of the fighter pilots joining the Chinese based 23rd Fighter Group of the United States Army Air Forces. I do not know if Harry joined the 23rd.
Of the 106 pilots hired by CAMCO (Central Aircraft Manufacturing Company) to become the AVG Flying Tigers, only 42 received the Chinese Wing Star Medal and Harry was one of them. Harry was also the recipient of the Chinese Sixth Order of the Cloud and Banner (medal # 123) for his air-to-air victory.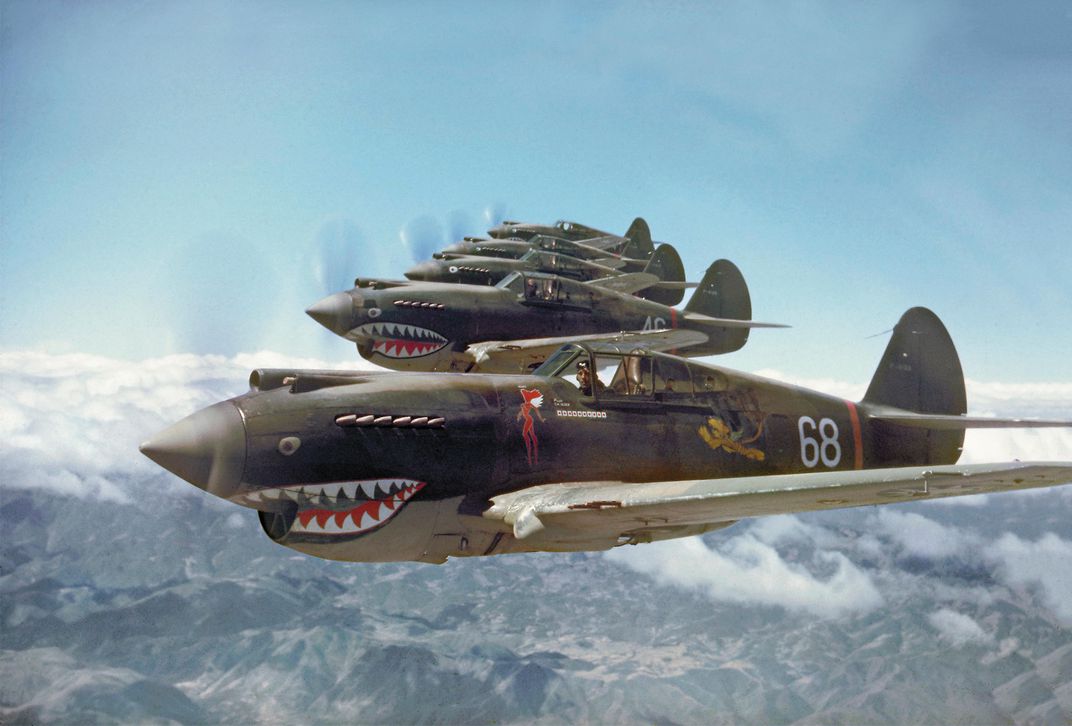 3rd Pursuit Squadron AVG Curtiss P-40 Warhawks in formation.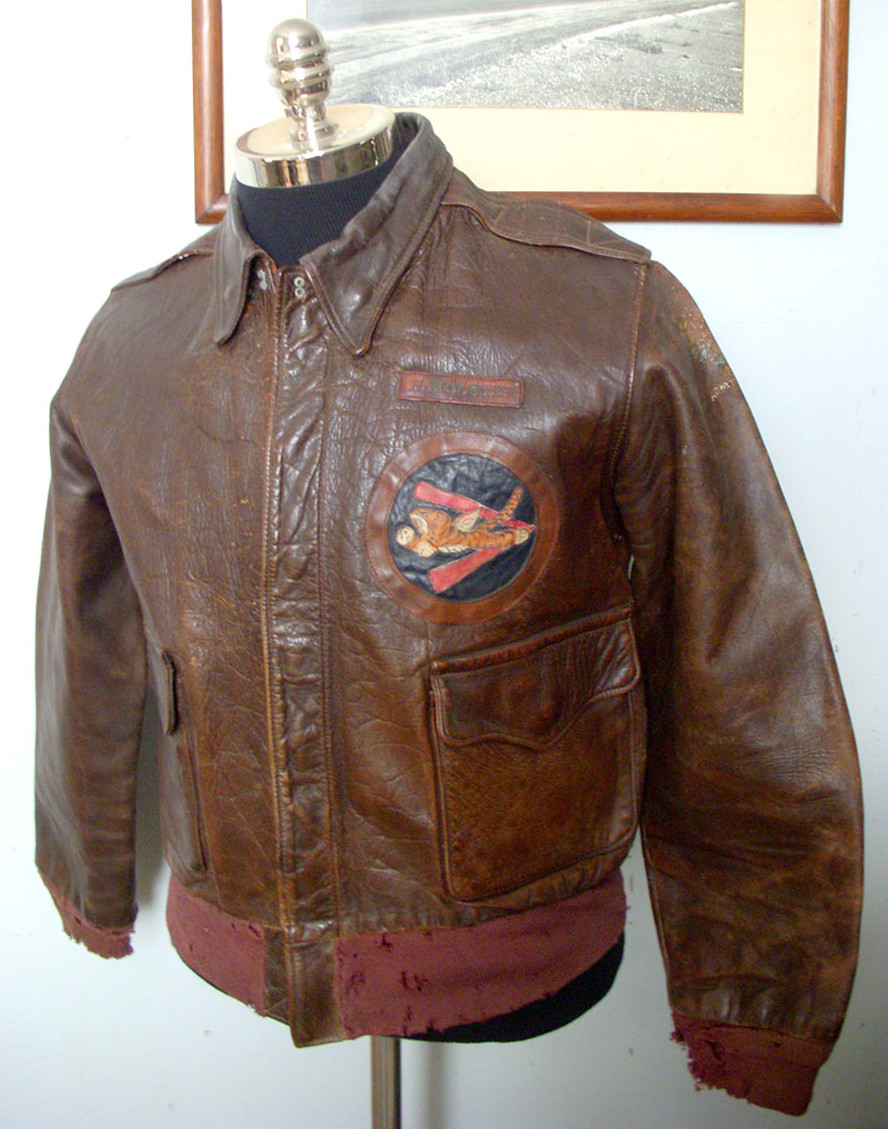 Harry's Flying Tiger flight jacket was purchased by a collector for an undisclosed sum. The original advertisement can be seen here.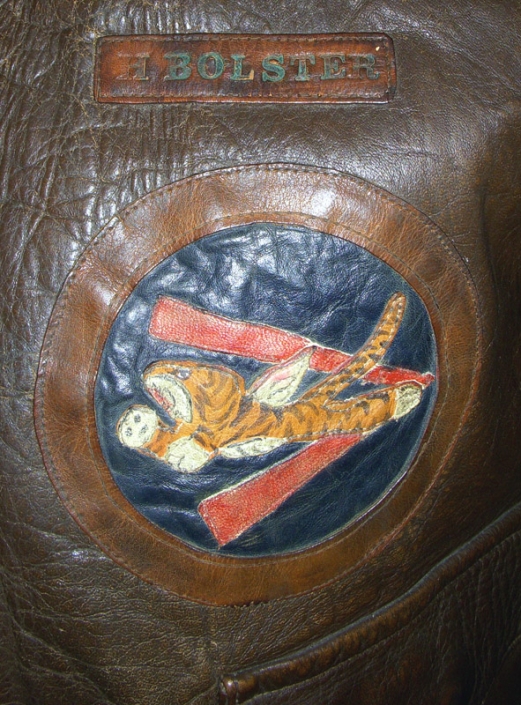 Note the "H BOLSTER" name tag.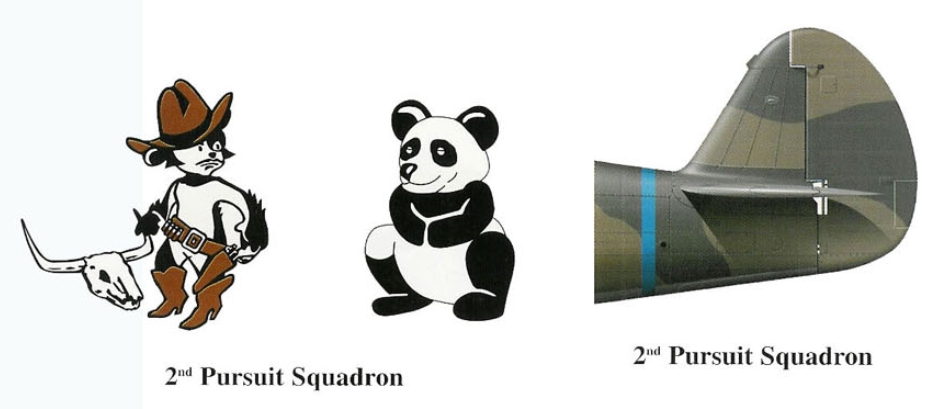 Squadron art and blue tail stripe of Harry's 2nd Pursuit Squadron AVG "Panda Bears".
Major Bolster rejoined the US Army Air Force after returning from China and became a test pilot. He was killed flying an experimental Fisher P-75A while stationed at Eglin Field, Florida, October 10, 1944.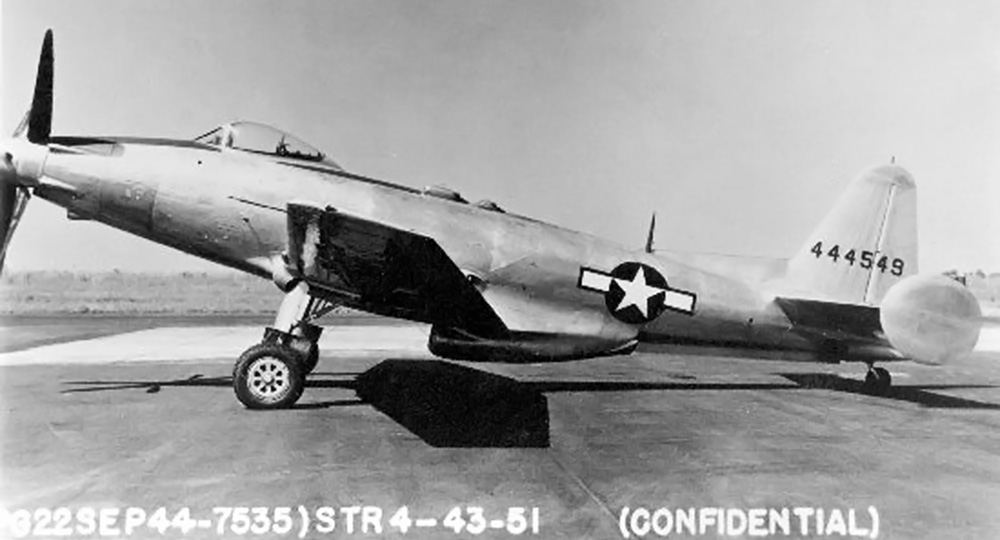 Major Harry Bolsterís fatal aircraft P-75A 44-44549 photographed just before the final flight.
On the 10th of October, 1944, aircraft 44-44549 was lost with its pilot, Harry Bolster. The crash was caused by the propellers becoming fouled by either a nose-gun tube failure or by part of the spinner breaking free. The damaged propellers quickly destroyed the gear reduction and once depleted of oil the propeller blades went into a flat pitch, high drag position. Bolster attempted a forced landing but landed just short of his intended landing field and crashed. The P-75 program was canceled the following month and none of the P-75 prototypes saw combat.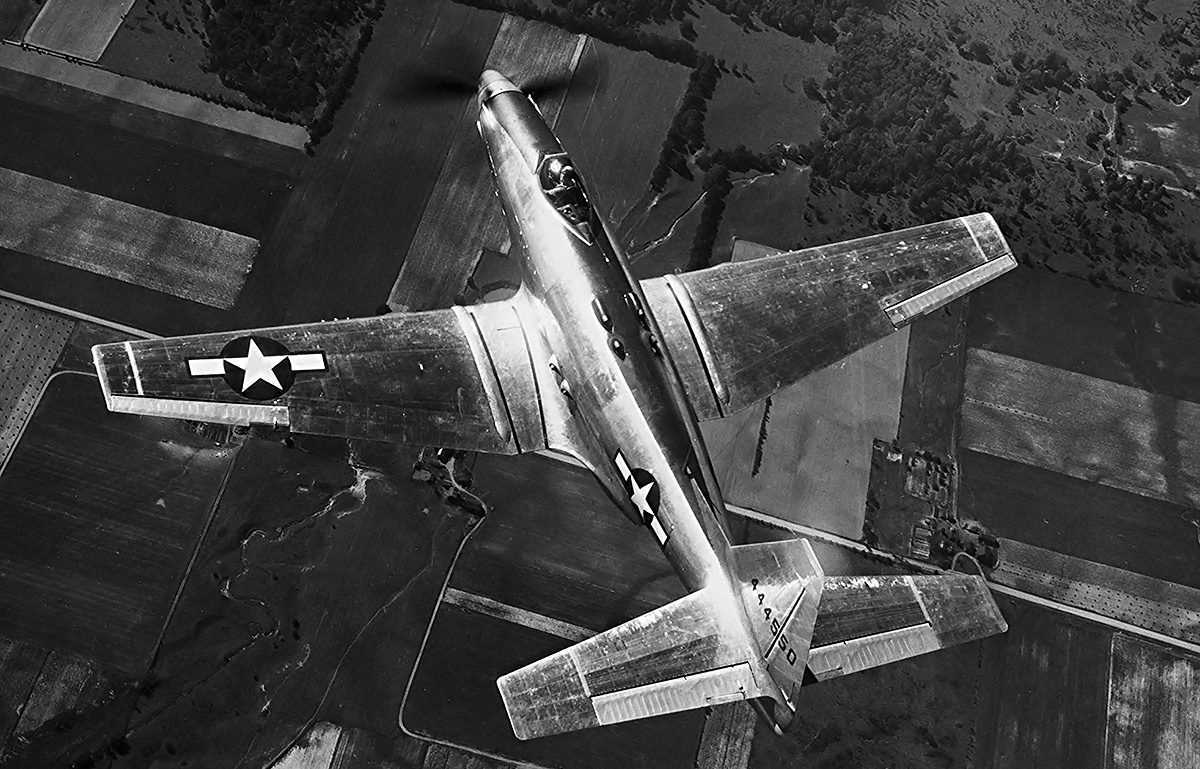 Harry's fatal aircraft's sister ship, P-75A 44-4550, in its final configuration.
The last completed P-75A, 44-44553, was preserved and is currently on display in the National Museum of the US Air Force. The aircraft went through an extensive restoration in 2008. All other P-75 aircraft were eventually scrapped.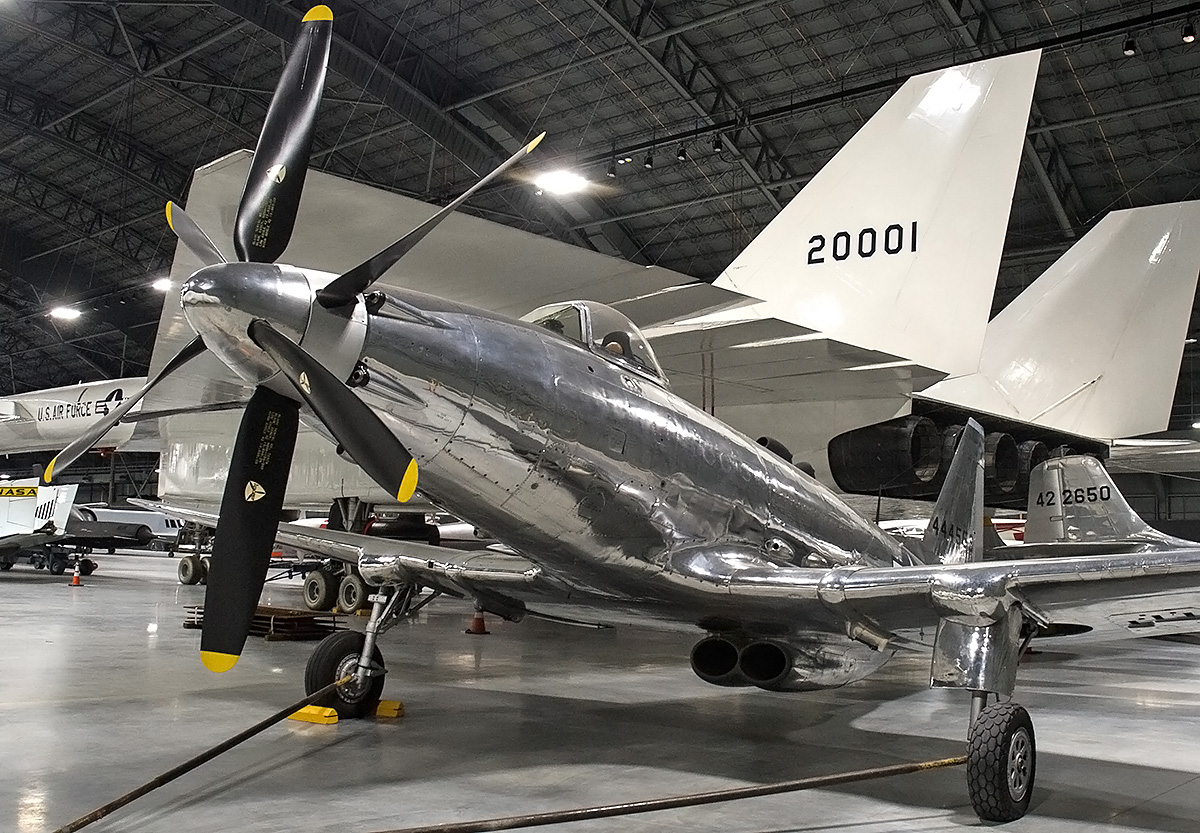 Fisher P-75A 44-44553 has been preserved and is on display in the National Museum of the US Air Force at Wright-Patterson Air Force Base located near Dayton, Ohio. The aircraft was originally designed as a long range interceptor but was repurposed as a long range escort fighter. Note the large counter-rotating propellers and dual belly cooling scoop. It was powered by an Allison 24 cylinder water cooled engine. The engine is located behind the pilot and a prop shaft runs to a large gearbox in the nose. Four fifty caliber machine guns are located in the nose and are synchronized with the propellers. There is also a fifty caliber machine gun in each wing. The plane was built by General Motors Fisher Body company.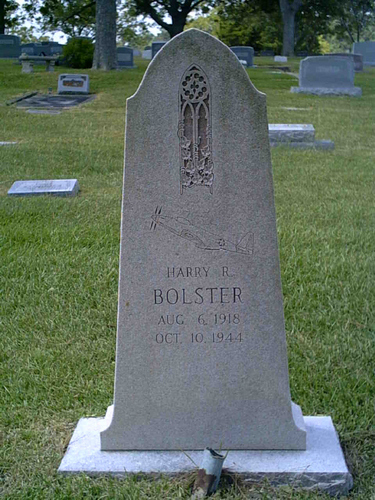 Harry is buried in the Hill of Rest Cemetery in Baytown, Texas. Note the P-75A engraving.
If you have any info on Harry's life and career please email me at robinette at comcast dot net.
---
See these links for more information on Harry (hit ctrl-f to search for "Bolster")
http://www.cnac.org/bolster01.htm
http://www.warbirdforum.com/vics.htm
http://www.warbirdforum.com/roster5.htm
http://flying-tiger-ace.tripod.com/id41.htm
http://www.flyingtigersavg.22web.org/camco.htm
http://www.flyingtigersvideo.com/roster.html
---
An email from Charles Adams to Rob Robinette:
Harry Bolster was born in Baytown, Texas on August 6th, 1918. He received the Order of the Cloud and Banner; and Winged Star Chinese medals for his AVG CAMCO victories. He is buried in the Hill of Rest Cemetery in Baytown, Texas. I have his AVG jacket.
Best,
Charles Adams