S2000 Racing Harness Install
By Matt Briddell
I just installed the hard dog bar and used Schroth Hybrid IIs and mounting hardware (backing plates, eyebolts, and clip in brackets (I think the B23 rally end ones, HMS knows for sure)) from HMS Motorsport. They are extremely well made and comfortable. I have Taitec rails and Recaro Profi SPGs. You don't want to mount the sub belts to the rail or rear lap belt mounts, its dangerous. You need 3 holes for each seat. One for the inside lap belt and 2 for the sub straps. The outside lap belt uses the stock seatbelt mounting hole. Also, you really need 6 point harnesses (vs 5) as there is no good way to only mount one sub mount as there is a beam running down the length of the car exactly where you need to put the mount.
Optimal Harness Anchor Positions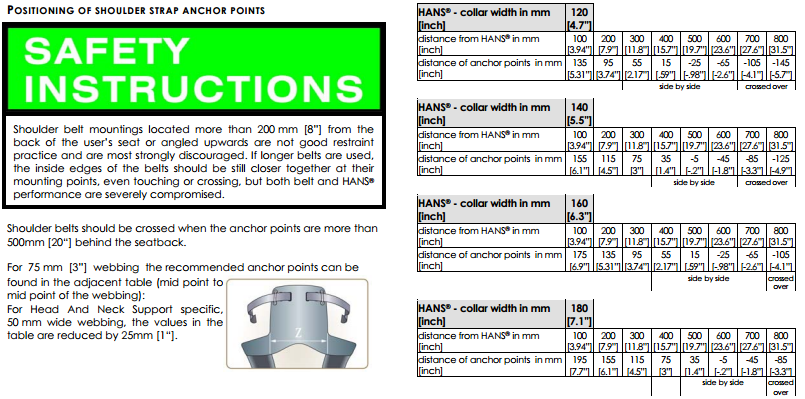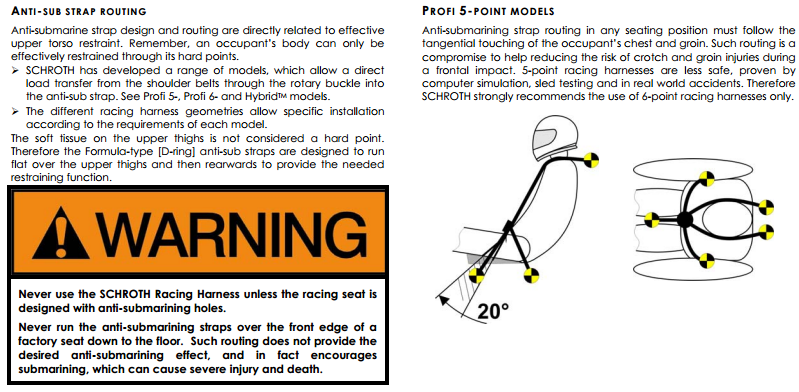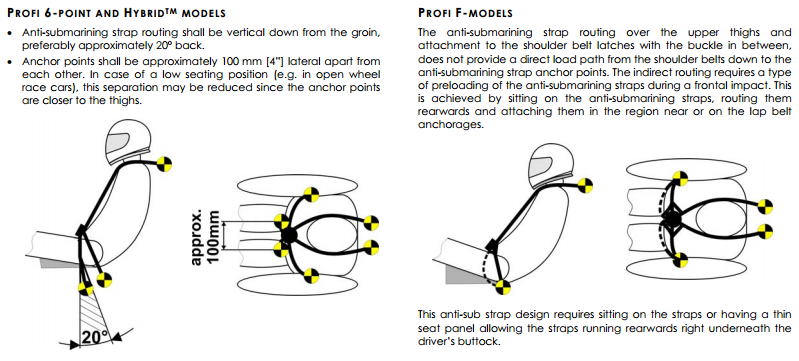 Note the differences between 5-Point and 6-Point mounting.
You need to get the seats mounted to the rails and in place. Then read this: http://www.schrothracing.com/docs/Competit...nstructions.pdf about 15 times. Note that the standard Hard Dog harness bar is too high to be optimal, unless you ordered one set lower. I am probably going to lower mine and lose the secret compartment.

Then measure, measure, measure and mark. Then drill pilot holes. Tiny ones, because you will probably get it wrong the first time. I did. You will have to test fit the seats a number of times before you commit to drilling.

I made marks on the topside with the seat in and then transposed the position below using the highly scientific blue tape method. You don't want to drill from the top on the drivers side as you may hit a fuel line.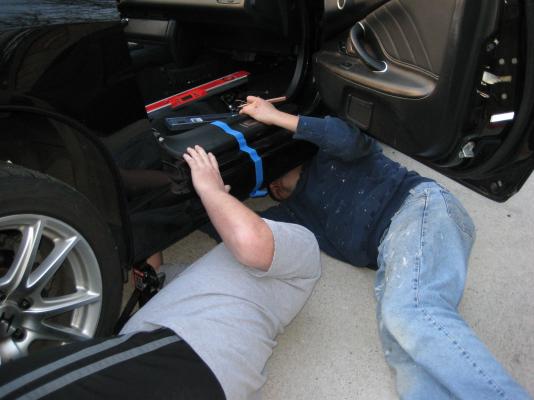 Using blue painter's tape to locate sub belt holes






Here are some pics of the harness mount points. Note, these were the correct positions for my seats and rails, and my height (5'11"). Don't just blindly drill where I did assuming it will work out for you.
---
Lap belt mounts
The correct size outside lap belt eyebolts are M10x1.25. They will screw into the stock outside seatbelt holes and allow you to clip the lap harness into place.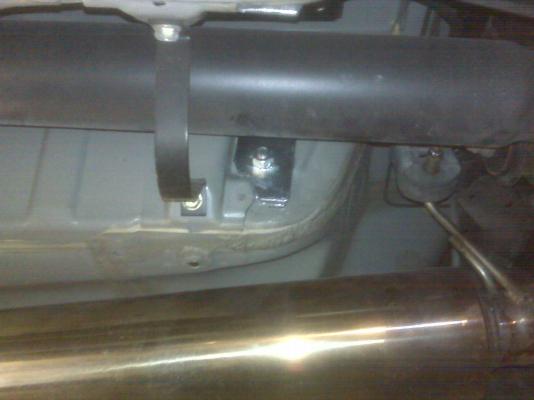 Passenger side inside lap belt mount.
Notice you have to notch the backing plate to avoid flattening a part of the body.



Driver side inside lap belt mount.





Topside view of passenger lap belt mount (lower hole is rear seat mount)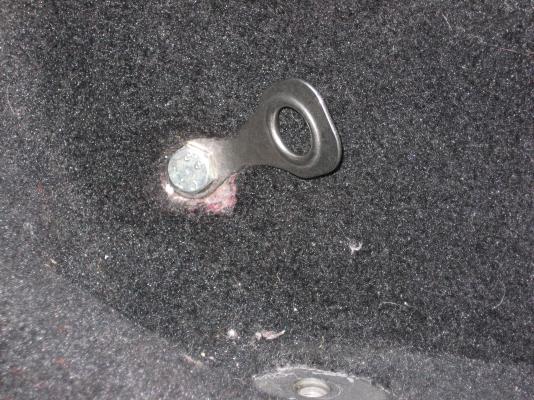 Passenger lap belt mount with End Fitting Kit
---
Sub belt mounts

Ideally you want the sub belt mounts 4 inches apart. this is not possible on either side of the s2000 unless you want to flatten sections of the floorboards. I didn't, so i settled on 5.5" apart.

Passenger sub belt mounts.





Top view of passenger sub belt mounts.



The drivers right side is right under the fuel lines. BE CAREFUL. I put a vinyl sleeve (slit hose) over the fuel line that was closest to the bolt so it didn't rub.

Driver side sub belt mounts
Drivers left side


Make sure to seal the backing plates with silicone to prevent water seepage. Also use high strength thread locker on the sub strap eye bolts and lap belt bolts.


At VIR the next weekend






Hope this helps you and others.



-Matt